Tripawds is a user-supported community. Thank you for your support!
On October 2013, little did I know it, but my life from then on would be changed forever.
I was following the Facebook page of Bull Terrier Rescue of Florida Inc. and saw a foster plea for a deaf white bull terrier with a black spot around his left eye.  His name was Coco and he had been pulled from Miami Dade Animal Shelter by the rescue group.  He was found as a stray in horrible condition and had since been bounced from foster to foster for a whole year.  His last foster was a guy named Walt who lived on a boat.  Coco was not doing well there and had stopped eating and was losing weight; they think that being deaf, he did not do well with the balance issue on the boat.  At that time, my ex-husband and I had 2 dogs – Kaya and Sammy.  Kaya was a big white bull terrier, my heart dog.  I had rescued her from a rescue group in NY.  She was found tied to a post in JFK airport, in the cold and pouring rain.  She had a torn ear and many scars on her body.  She was extremely dog aggressive when I first got her, but miraculously was able to get along with my ex-husband's dog Sammy, who we introduced when we first started dating.  Sammy was a big, goofy Viszla/Lab mix who was super mellow and got along with every dog he met.  The 2 of them were getting old, we estimated around 10-12, and Kaya was getting mellower in her old age.  We would never have been able to bring in another dog into the home previously.
Coco's pictures and foster plea tugged at my heart.  I wanted to foster him, but I was afraid of him being deaf, and of how Kaya would react – whether she would attack him.  But after several weeks of no one stepping up to foster or adopt him, and him needing to be off that boat, I finally volunteered to foster him with the condition that he get along with Kaya.
On November 12, 2013, we brought Coco home.  I was nervous about him being deaf, and of course whether Kaya would accept him into our pack.  But I had no reason to be concerned.  Kaya took to him almost immediately and never, not once, attacked him.  As for Coco, who we now renamed Kokomo, he seemed perfectly content and happy to be part of our family.  He bonded with and followed my ex-husband everywhere.  The first night at our house, he slept like the dead, comfortable and secure at last.  He followed Kaya and Sammy around and took his cues from them, his "ears".  It was only a matter of days when we knew he was not just a foster dog, he would be ours forever.
~ MDAS listing ~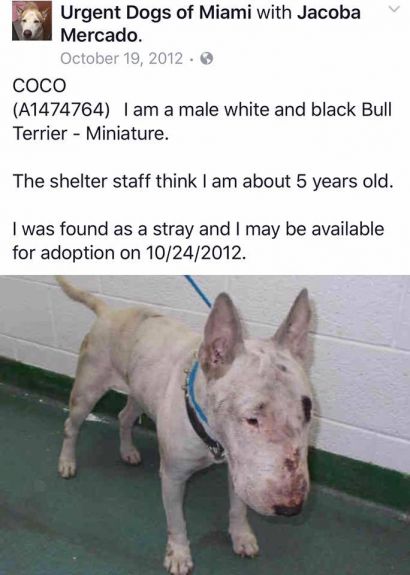 ~ On our way home ~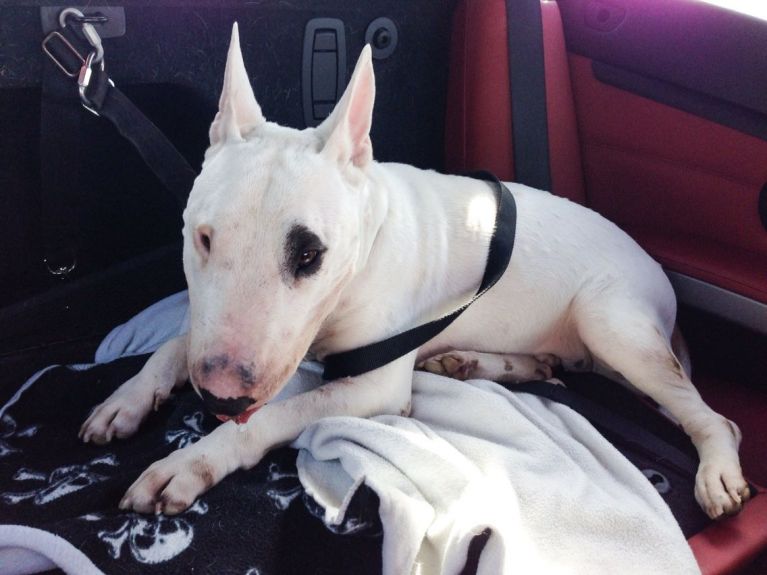 ~ Meeting the pack: Carla with Kaya, Kokomo and Sammy ~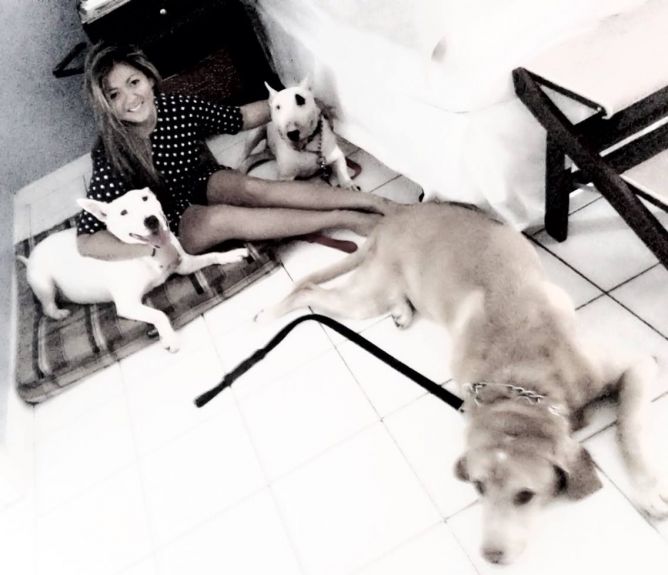 ~ First night home: Snug as a bug in a rug ~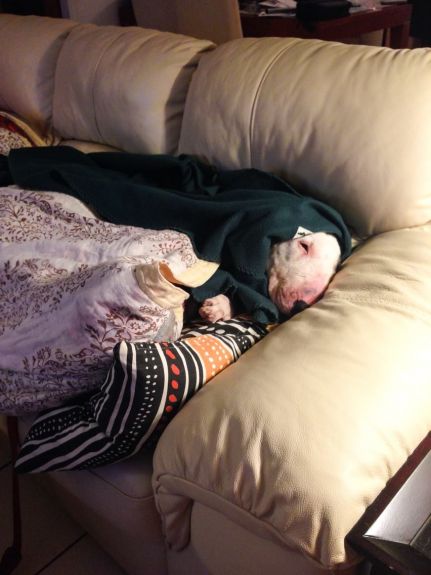 ~ Look at that clogged pore nose! ~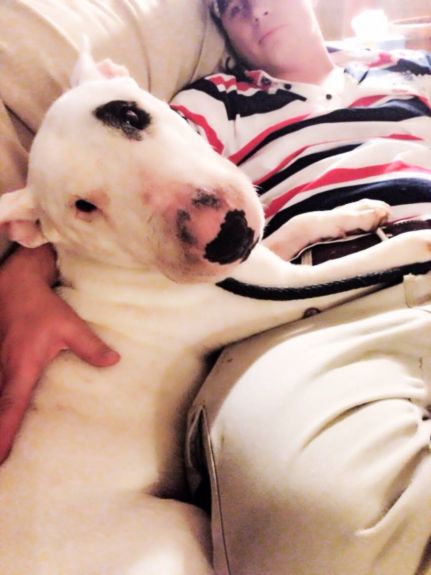 ~ Kokomo was happy to be on land again ~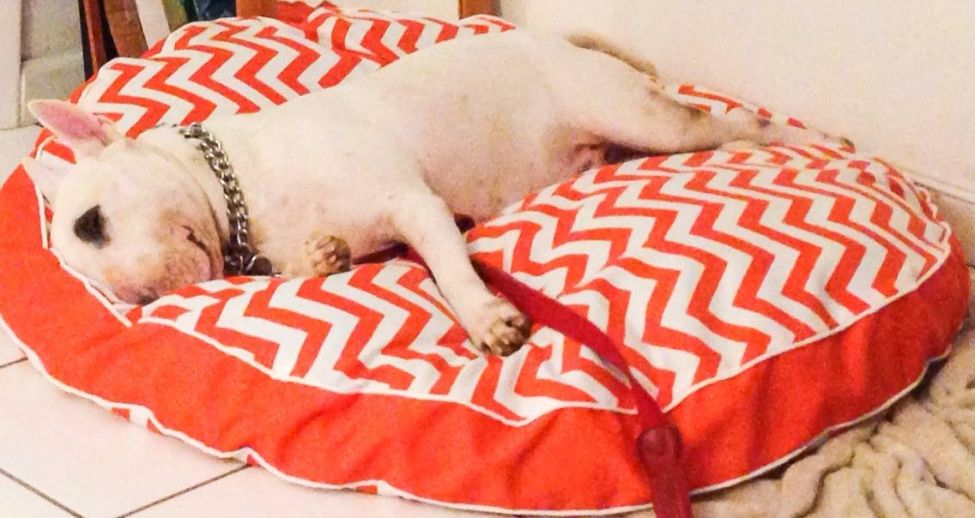 ~ Kaya & Kokomo: Two Peas in a Pod ~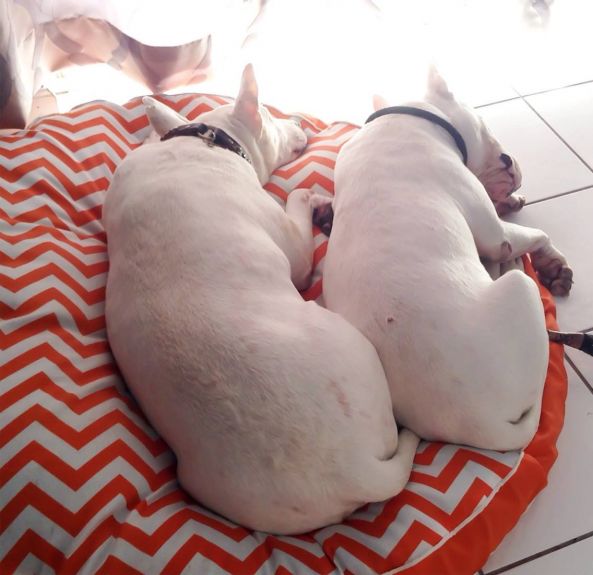 ~ Baby Kokomo ~